11. Jul. 2022 - 17. Jul. 2022, 18:00-10:00 Uhr
MonViso Institute
---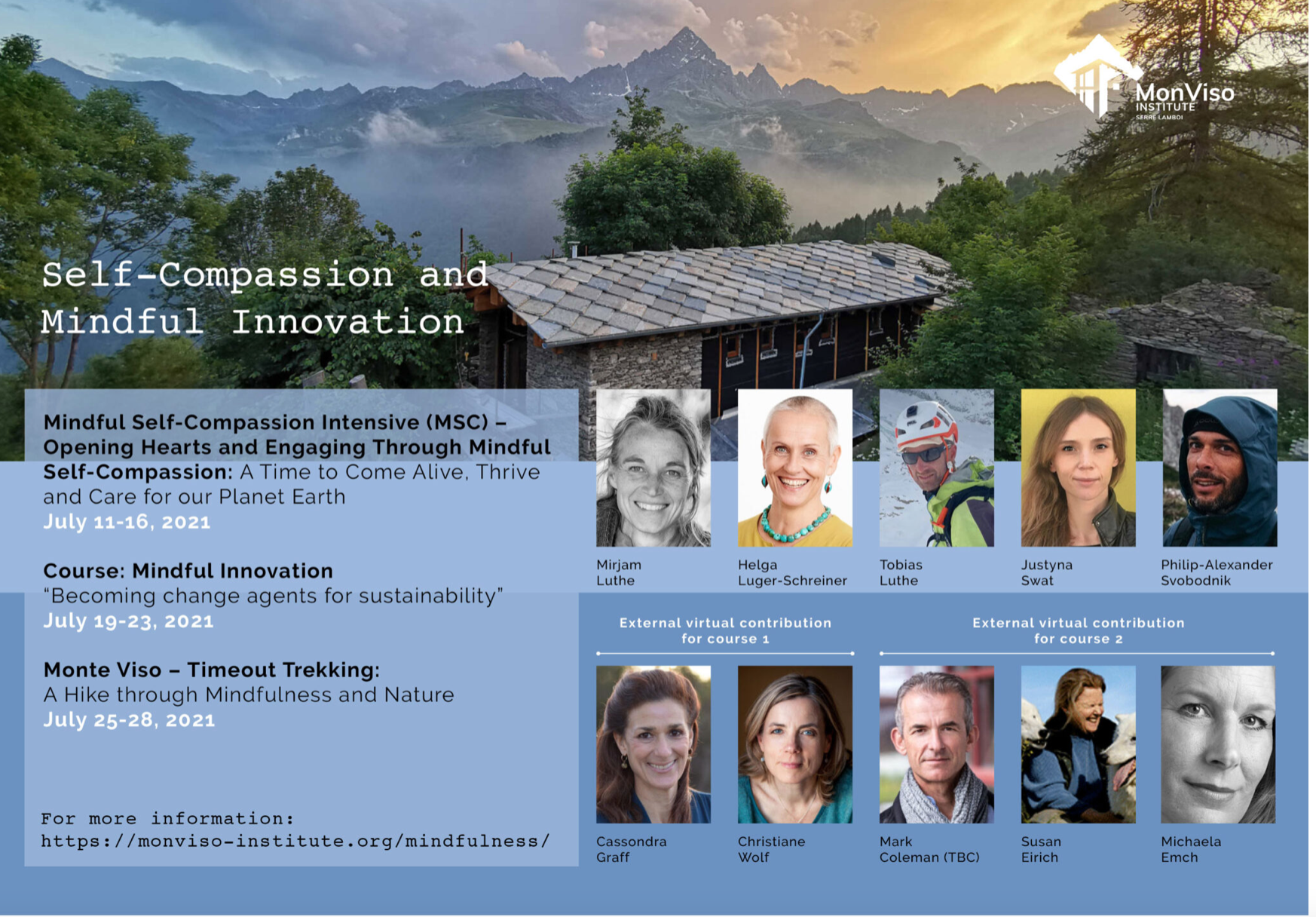 Explore your inner nature and relation to others during the 5-day Mindful Self-Compassion (MSC) Intensive program with the title "Opening Hearts through Mindful Self-Compassion – A Time to Come Alive, Thrive and Care for our Planet Earth" (acknowledged for the official MSC-Teacher Training Path), by Mirjam Luthe and Helga Luger-Schreiner and external virtual contributions by Christiane Wolf and Cassondra Graff. We will live and practice in a re-vitalised wild and romantic Alpine mountain village at 1.200m altitude to be active participants with body, heart and mind in a village and project in times of transition.
We are living in a time, when confusion, loss of control and fear seem to take hold of our minds. (Self-)Compassion can become an antidote: To live well, thrive and care, we need to live well together. (Self-)Compassion helps to broaden our awareness and our respect for ourselves and then also for other living beings – expanding and deepening our relationship with our planet Earth, helping us to become aware of our interconnectivity. And compassion is not a luxury, it is even a necessity, if we are to survive. Life is calling us to live it well, fearless and intentional, to not only survive, but to let all life including ourselves thrive. Life is a precious gift. Let's celebrate it!
Following ancient traditions that value the transformative power of nature, we will seek refuge in the beauty, stillness and silence of the natural world in the breathtaking Italian Alps, in Ostana province.
Join Mirjam Luthe and Helga Luger-Schreiner (both Certified MSC Teachers) at Monviso Institute, Ostana, Italy, for an immersion into self-compassion in connection with nature. Nested in the mountains of the Italian Alps, in Cuneo province and Ostana community, immerse yourself in your natural capacity for compassion and wisdom by participating in a 5-Day Mindful Self-Compassion Intensive course, the empirically-supported 8-week Mindful Self-Compassion (MSC) program designed to cultivate the skill of self-compassion. It was developed by Christopher Germer, PhD, a leader in the integration of mindfulness and psychotherapy and Kristin Neff, PhD, a pioneering researcher in the field of self-compassion. MSC combines the skills of mindfulness and self-compassion to enhance our capacity for emotional wellbeing. Mindfulness is the first step—turning with loving awareness toward difficult experience (thoughts, emotions, and sensations). Self-compassion comes next—bringing loving awareness to ourselves. Together, mindfulness and self-compassion comprise a state of warm, connected, presence during difficult moments in our lives.
Program activities will include meditation, short inspirational talks about the science of mindfulness and self-compassion, many experiential exercises, and group dialogs. We will take care of our physical needs and incorporate movement though yoga, hikes, swims and dance (optional). We will enjoy healthy local food. The goal is to provide a safe and supportive environment for exploring how we typically respond, when difficult emotions arise and to provide tools for becoming a warm and supportive companion to ourselves. The emphasis of the program is on enhancing emotional resources and personal capacities. We will also enjoy sensing and savoring the great outdoors and exploring our surroundings, the local Occitane culture, connect with local people and learn about their resilience to undesirable changes and about new ideas for reviving Alpine villages like Ostana.
Stay tuned for more offers after this course in the same place to bring your family and extend your vacation without traveling any further, reducing your carbon foot print, while enjoying a unique experience in front of majestic Monte Viso!
More information soon here: https://monviso-institute.org/mindfulness