06. Nov. 2021 - 11. Dez. 2021, 18:30-20:00 Uhr
---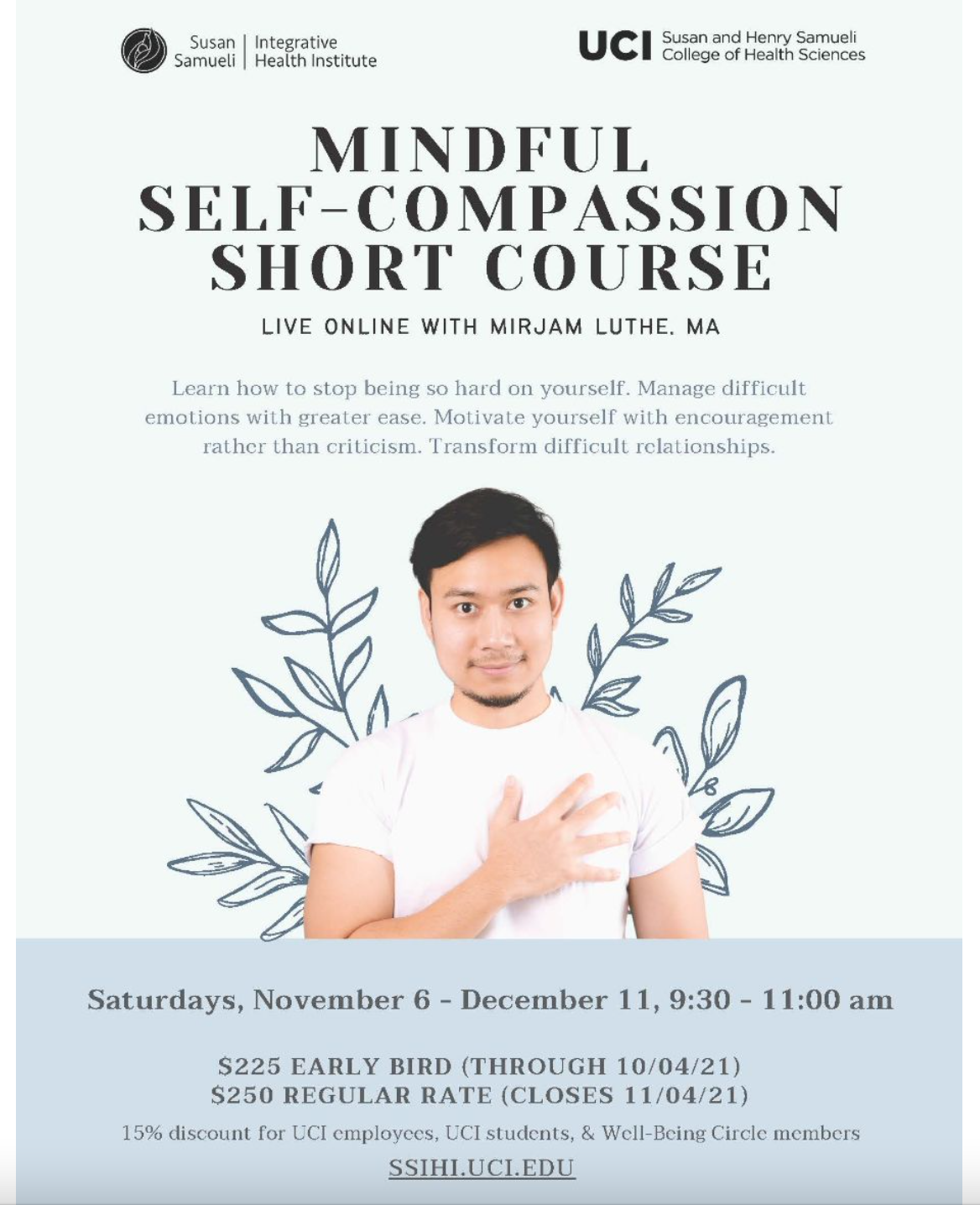 Mindful Self-Compassion is an evidence-based program designed to cultivate self-kindness and improve wellbeing. Developed by two psychologists, Drs. Kristen Neff and Chris Germer, Mindful Self-Compassion is the practice of repeatedly evoking good will toward ourselves especially when we're suffering—cultivating the same desire that all living beings have to live happily and free from suffering.
Most of us feel compassion when a close friend is struggling. What would it be like to receive the same caring attention whenever you needed it most? All that's required is a shift in the direction of our attention—recognizing that as a human being, you, too, are a worthy recipient of compassion.
Research shows that self-compassion significantly enhances emotional wellbeing (less anxiety and depression), boosts resilience, happiness, harmonious relationships, and can even help maintain healthy lifestyles such as healthy eating and exercise. For many of us, self-criticism is a familiar driving force to do better and succeed. Yet, research shows the opposite: self-compassion is a much healthier and productive way to motivate ourselves.
You will learn:
· how to stop being so hard on yourself
· how to handle difficult emotions with greater ease
· how to motivate yourself with encouragement rather than criticism
· how to transform difficult relationships, both old and new
· mindfulness and self-compassion practices for home and everyday life
· the theory and research behind mindful self-compassion
· how to become your own best teacher
The 6 Sessions include short talks, experiential exercises, interactive group discussion, and home practices. No experience with mindfulness or meditation is required.
Course times:
Saturdays, 9:30-11 am PST / 12:30-2:00 pm EST / 18:30-20:00 CEST
Cost:
$250 Registration Fee
$225 (ends 10/04/21) Early Registration Fee
15% discount for UCI employees, UCI students and Well-Being Circle members
Please contact Jessica Drew de Paz, Director of Mindfulness Services, with any questions at drewj@hs.uci.edu
Teacher: Mirjam Luthe, M.A.
Register here: